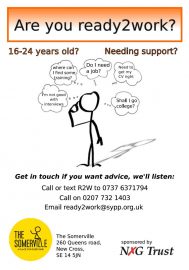 As 2019 started, so did the Ready 2 Work service, an Information And Guidance (IAG) service to assist young people with their decisions to move into work, training and education.
Get started: be ready to learn, work and earn.
fill in the registration form and he will be in touch. You can come and drop in for a chat, or drop in to visit the Somerville centre IT suite on a Friday
What next?
You will be asked in for a meeting to chat about what decisions you've made, and will try to assist you with getting applications (and filling them out), improving your CV and job search, and making the right impression when you get that interview. Interview technique sessions are Friday afternoons if you want to get right and tight with your approach to interviews.
Is it free?
Yes. It is part of the support service for young people.